Domestic Scrap Metal Collections
Mulholland Scrap Metals offer a versatile, reliable, environment-friendly, and competitive scrap metal collection service. This includes all domestic scrap, from domestic appliances to surplus leftover construction material. If required, we can provide a small metal-only skip for efficient collection of your end-of-life scrap metals.
Scrap cars
Electric gadgets
Faulty boilers
Radiators
Washing machines
Dryers
Dishwashers
Metal Sinks
Cookers and Ovens
Pipes and taps
Our services are compliant with all the regulations regarding waste management and environmental conservation. We are proud to be NIEA registered. Our primary focus is to help homes and businesses reduce their waste and impact to the environment. That is why we collect your industrial and household scrap; we safely recycle it and put it to good use while properly disposing of the unusable.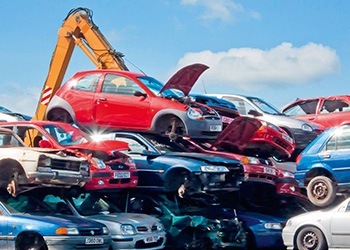 Scrap Car Collection
It's our company ethos to offer the highest standard of customer service. Our friendly staff is fully trained and licensed to safely and efficiently dispose of your scrap metal, including hazardous materials. Simply deposit your scrap metal at our authorised facility or call 028 2589 2599 to arrange collection at a time and place for your convenience.
As licensed Waste Carriers, we offer a comprehensive solution, including prompt payments and all issuing all relevant paperwork.